The Settings tab includes options you can use to customize your tuning experience. 
Left-handed mode
If you're left-handed, you can change to left-handed mode by tapping on Settings. Toggle the Left- handed mode slider, so that it turns green.
Once the mode is enabled, the notes on the headstock are mirrored to allow you to tune your left-handed instrument. Check our blog for more tips about playing left-handed guitar.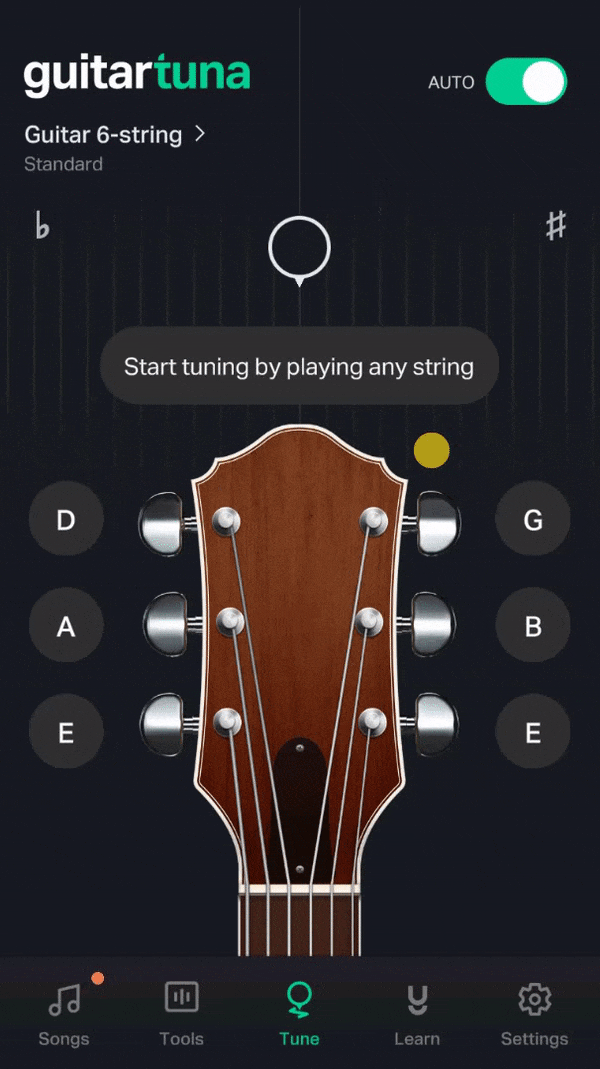 "In tune" sound effect
GuitarTuna plays an "In Tune" sound once a string is tuned correctly. If you want to disable the sound effect, tap on Settings. Toggle the "In Tune" sound effect slider, so that it turns gray. 
Pro accuracy
Tuner's accuracy is a component that is measured in Cents; 100 Cents = 1 Semitone (half step). 
GuitarTuna allows you to tune your instrument with the accuracy of +/- 1 cent when using the Pro accuracy feature. When this feature is disabled, the number on the screen when tuning is equal to 10 cents(1 = 1-10 cents; 2 = 11-20 cents; etc.).
To enable it, tap on Settings → Pro accuracy slider to turn it to green. 
Calibrate
When you strum a string, it vibrates and produces a sound wave. These waves are measured in Hz (Hertz), and each tone has its own frequency.
With GuitarTuna, you have the option to create custom pitch notations, with the Calibrate feature. Tap on Settings → Calibrate button to access the feature. 
Tap - or + buttons to adjust the frequency. Tapping Reset changes the frequency back to 440 Hz. 
By default, the frequency is set to 440 Hz, which is recognized as an international tuning standard. Guiseppe Verdi, an Italian composer, placed A exactly at 432 Hz, which is the most well known alternative tuning. 
Note name convention
You may have learned notes in a different way e.g. "A, B, C" or "Do, Re, Mi". These are two ways to name the same note.
GuitarTuna supports both note name conventions:
"A, B, C" notation and
"Do, Re, Mi" (Solfège) notation.
In addition, notation names are also localized for Russian, Japanese and Korean languages. Tap on Settings → Note name convention and pick the one you want to use.