Once you finish playing a song, you get access to the song end screen. You can view your song score and access the song leaderboards.
How song score is calculated
If you play a song more than once, you see two different options: Score and Your best. Score is the number of points you got for the most recent play of the song. Your best is the combined score from all of your previous plays of the song.

As an example, after the most recent play, 81,900 is the updated score.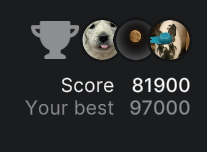 The Your best score (97,000 from the example) is the combined score. It is the sum of the best scores achieved for each part of the song, from all previous plays. This is the score you see on the song leaderboards.
Next time you re-play the song, the score visible at the start is your best achieved thus far.
What are song leaderboards
Song leaderboards include scores from other players. To access a song leaderboard, select the score located in the top right corner of the song screen.

After you open the leaderboard, you can view your standing and score. You can also toggle between My level, Global and Friends views.
Weekly challenge leaderboards
If you play a past Weekly challenge song, your score is saved but the Weekly challenge leaderboard is not updated. You can view your score for the song from the song end screen. You can also find the song with song search. Open the song and select the score in the top right corner to view your standing on the song leaderboard.